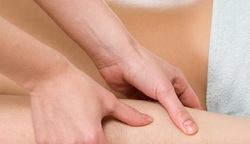 Meet A.J. Clifford
,
License Massage Therapist
. A.J. has a true passion for helping people and discovered the healing powers of massage after sustaining personal injuries from a car accident that resulted in chronic pain. Conventional treatments only helped so much, but then she started getting massages treatments from a physical therapist. It wasn't long after that she regained full mobility and was able to function again without pain. After experiencing such a dramatic transformation from massage, she felt compelled to take up massage therapy as a profession to be able to share that same experience with others. "If I wasn't for the accident I was involved in, I would have never become a massage therapist", says AJ.
Since obtaining her license years ago, AJ has worked for Blackberry Farms and other well know franchisees. She now owns her own business and is able to charge significantly less than what customers pay at other establishments. AJ says "It's all about helping people and if some can benefit from my services, money should not be a barrier that keeps that person from getting the treatment they need". As a member of the American Massage Therapy Association
(AMTA)
she incorporates their holistic model of ethics guidelines and standards. AJ employs a personal approach to massage therapy, stays up to date on the latest techniques and utilizes a vast array of skills to cater to your individual needs. Pressure is adjusted to ensure damage to muscles does not accrue while clients obtain maximum alleviation. She works with clients from all walks of life, whether it be someone suffering from a terminal illness looking for pain relief, helping an elite athlete speed up recovery, or anything in between. Everyone will feel comfortable in A.J.'s hands, she knows what it is like to need pain relief and has the experience and knowledge to provide what you need.
---
Located in the Blount Medical Complex inside Bodyworks Massage Studio STE B